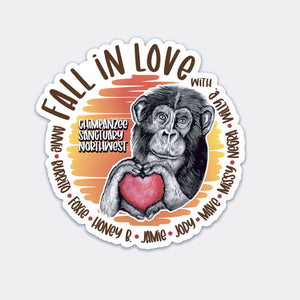 This design is one of the People's Choice Award Winners in the 2021 Art Contest to benefit Chimpanzee Sanctuary Northwest sponsored by Central Washington University's Primate Awareness Network and Gallery One of Ellensburg, Washington. The design is by Maria Spencer.
This high quality vinyl sticker will last for years on your vehicle.
All proceeds go to the sanctuary to support the care and attention of the chimps and rescue cows that reside there.
Decal Specs:
4" wide by 3.8" tall die cut vinyl decal with UV laminate will last for years
Full color.