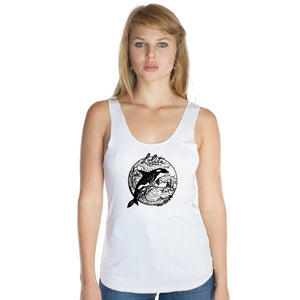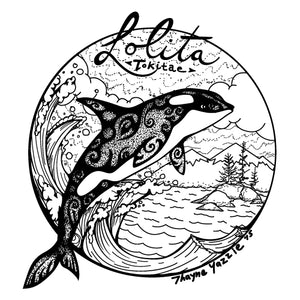 August 8th marks the anniversary of Lolita's capture from her pod.  This shirt is one of the first place designs from our Lolita 45 Design A Shirt contest and was done by hand by Thayne Yazzie.
25% of the purchase of this shirt will be donated directly to The Orca Network supporting their Free Lolita campaign. Environmentally friendly phthalate-free water based inks are used for the printing of this t-shirt.
The Orca Network is working to have her released back with her family in the Pacific North West.
Tank Specs:
70% viscose bamboo, 30% organic cotton. Made in the USA.
White.
Racerback tank style. 
Please note this tank runs slightly big and has large arm openings.
Printed with 

environmentally-friendly phthalate free water based inks

Hand drawn graphic of Lolita by Thayne Yazzie printed on the front in black ink